About Gianni Krattli
"
GIANNI
KRATTLI" | The face behind the camera.
Welcome to
GIANNI
KRATTLI
Born 1984, grew up in a small village in the canton of Schwyz, 40km away from Zurich, the todays home base of his journeys. Already in his early years technology was one of the major interests, what had to lead to the ownership of a DSLR camera. Highspeed Photography was the entry point to photography. In this technique up to 1200fps were captured and combined into a clip. With one of this clips Gianni made it to a tv commercial in the UK.
In other words, from the start his goal was to show objects in a way in which they had rarely been seen.
During a 15 months trip around the world in the year 2010 the photographer found his true passion: Landscape photography. He especially fell in love with the remotest places like the Alaskan Wilderness or the Hawaiian lava fields. In the meantime, he already spent more than 250 days on Hawaii.
"For me the most impressive places on earth are those where nobody else is. Just me, my camera and absolute solitude. "
- Gianni Krattli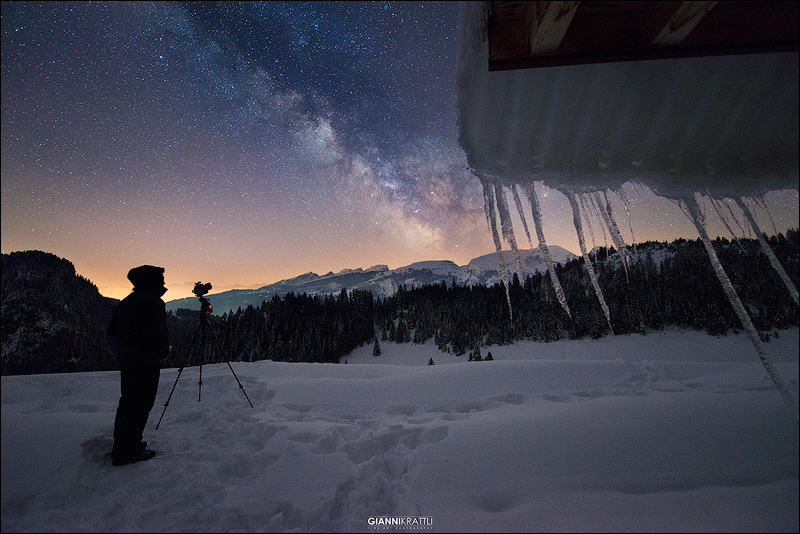 "
FROZEN TOGGENBURG
" | Toggenburg, Switzerland
Locating such places in today's population is not that easy anymore and it needs some effort. Capturing the perfect shot of a dreamlike scene with the right weather and magic light requires patience and endurance of the photographer.
One of the main interests of
GIANNI
KRATTLI is astrophotography. In the Swiss Alps and in the Pacific Ocean the stars sparkle extraordinary without any light pollution and there is a breathtaking vista of our home galaxy the Milky Way. Means, there is no time for sleep when it gets dark.
"The greatest feedback for a photographer: When people take a moment to enjoy the view of a picture and want to know the story behind it."
- Gianni Krattli