Photography Showroom by Gianni Krattli

"
HAWAI'I COLLECTION 2013
" | Hawai'i, HI
Welcome to the Showroom of
GIANNI
KRATTLI
You fell in love with one of our pictures and would like to beautify your walls with it? In this virtual showroom we would like to show you some pictures of clients and would like to convince you of the quality of our
products
.
Pictures of
GIANNI
KRATTLI had already been printed in different sizes, starting from 50cm up to 5 meters. The 5x4m print for a Swiss wheelchair manufacturer for the exhibiction Rehacare in Dusseldorf was the largest so far. The Matterhorn captured out of an airplane was the perfect eye catcher.
The most famous dimensions for homes and businesses are 150-200cm or up to 125cm framed. These types of pictures are lightwights and easy to hang. In comparison a picture behind Plexiglas should be mounted with screws because with 150cm it can weight more than 10kg.
And no matter where you are living, pictures of
GIANNI
KRATTLI will be sent to almost every country. We already shipped successfully a picture to Honolulu in Hawaii.
"
CANVAS AND PLEXIGLAS PRINTS
" | 120x80cm and 84x150cm
You would like to order an original picture of
GIANNI
KRATTLI?
Contact us
directly or select the desired size and product below any picture.
There is no picture for your taste available? Don't worry!
Day-to-day new landscapes and cities will be featured in our gallery.
Thank you for your trust and we hope you enjoy
GIANNI
KRATTLI.
PICTURES OF CLIENTS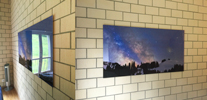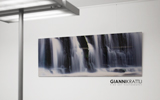 Click the image to take a closer look.